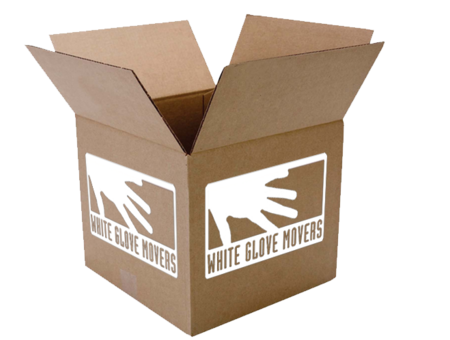 where can I get moving boxes Cedar Rapids, Iowa?
One of the most time consuming parts of your move is packing everything in boxes. Simply finding suitable boxes for your items is also difficult! White Glove has a full assortment of boxes to fit most items and other supplies as well.

SMALL BOX
TYPICALLY USED FOR BOOKS, CANS, JARS, ETC. SMALL HEAVY OR BREAKABLE ITEMS.
SIZE: 16 X 12.5 X 12.5
VOLUME: 1.5 CUBE
PRICE: $2.05

MEDIUM BOX
MOST COMMON BOX USEFUL FOR MOST ALL HOUSEHOLD ITEMS.
SIZE: 18 X 18 X 16
VOLUME: 3 CUBE
PRICE: $3.55

LARGE BOX
USED FOR LARGER LIGHTER ITEMS.
SIZE: 24 X 18 X 18
VOLUME: 4.5 CUBE
PRICE: $3.85

WARDROBE BOX AND BAR
USED FOR HANGING CLOTHES OR LARGE BEDDING ITEMS.
SIZE: 24.5 X 21.5 X 50
PRICE: $14.00

PACKING PAPER
AMOUNT: 25 POUNDS OF PACKING SHEETS
PRICE: $21.75

DISH PACK
USED FOR PACKING DISHES.
SIZE: 18.5 X 18.5 X 29.5
PRICE: $8.00
CELL KIT: $13.00

PACKING TAPE
SIZE: 2″ WIDE X 55 YARDS
PRICE: $3.25

CARPET SHIELD
SELF-ADHERING PROTECTIVE FILM, EASY APPLICATION AND REMOVAL.SHIELDS CARPETS FROM DIRT, MOISTURE AND HEAVY TRAFFIC CONDITIONS.
SIZE: 24″ X 50″ (100 SQUARE FEET)
PRICE: $15.00
I wanted to pass along my sincere appreciation to Mitch and crew for their hard work today. They were prompt, went right to work and were friendly. They treated my household goods like they were their own and when I was fussing about the dining room table location they were glad to help. They took a lot of stress out of the moving day and am truly appreciative of everything. From Mark to you and to today it has been yet again an amazing experience. Thank you, thank you!
"We're settled into our new home. Now that I've unpacked my desk and have functional Internet again I wanted to take a few minutes to commend White Glove Movers, especially the crew that moved our stuff yesterday. I've been busting my hump working on the new house and packing up the old place for a long time and I was beat yesterday. It was great to have your crew come out and handle the furniture and boxes for us and give me a needed day of rest. Not only did your crew provide heaving lifting services, but they were professionals both in their work and in their communication with us. It was pretty impressive watching them play moving truck Tetris and getting everything to fit like they did, and doing it so quickly yet carefully. The professionalism they displayed turned what is usually a chaotic and turbulent time into a relaxing and lighthearted time for us. They made the move look effortless and…even fun!
Thank you very much for your services, my wife and I greatly appreciate it. Also, please extend my sincere appreciation and gratitude to the crew yesterday."